Maidenhead Mosque has a rich history spanning many decades. The Royal Boroughs first Mosque.  The building itself has become a landmark of Maidenhead and is well-known to all muslim and non muslim, with a rich history behind the structure. Serving the Muslim community, the Mosque has developed over the years catering for all people by providing vital services and assistance.  Over the years many distinguished personalities have been associated with the Mosque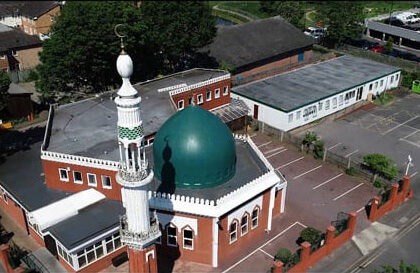 Timeline :
1950 – After the Second World War there were severe labour shortages, hence the need of Muslims from the subcontinent to help with the massive task of reconstruction. Muslims have been living, working and contributing ito the Royal Borough for over 50 years now.
1981 – A decision is made by the community to form a death committee to cater for the needs of the Muslims in Maidenhead.
1982 – Financial donations received from some notable Muslims for the building of Maidenhead Mosque, most notably Yusuf Islam (formerly Cat Stevens) the Saudi and Turkish embassy, but the largest and most significant contribution to Maidenhead Mosque came from an honorary Maidenhead resident Haroon Jaffer (may Allah preserve him and grant him jannah) who up until recently even after his passing away was still making substantial contributions to the mosque.
1983 – The very first foundation stone for the mosque was laid by Shaykh Alauddin Siddiqui from Birmingham
1987 – After much hard work and persistence, the Muslim community of manage to obtain the land for the masjid on a freehold status.
1994 – A new constitution is approved to remove 'ltd' from the end of the mosques name and to officially re-register as 'Islamic Trust Maidenhead'.
1997 – The first floor extension is complete, allowing much needed space for more worshippers and appropriate facilities for women along with an office and library.
2001 – Professor Saleem is appointed leading imam of Maidenhead mosque.
2007 – MFC (Muslim Funeral Committee) is launched to gather funds for existing members and to assist in funeral arrangements.
2008 – The mosques residential block is converted into the new modern much larger wudhu facility, with inclusive facilities for sisters in a more centralised accessible position.
2008 – Islamic trust manage to secure the old CAB site next door, which paves the way for an ambitious project to build a community centre to serve the people of Maidenhead.
2010 – The downstairs hall of the masjid is extended to accomodate more worshippers with the restructuring and renovation of the Mihrab to meet health and safety standards
2013 – November: Maidenhead Mosque hold an annual open day for the Maidenhead community
2018 – The Prime Minister Theresa May visits Maidenhead Mosque for Visit My Mosque day
2020 – The first public adhan is called on Eid ul Fitr in order to bring safety and peace to the whole Maidenhead community during covid
2022 – The Magnet Leisure centre car park officially closes and demolition work begins to make way for a new housing development next to the Mosque.